Bespoke Package
A complete and tailored range of services to cater to the specific and evolving needs of your company as well as full and unrestricted access to corporate management actions via the online corporate management tool.

Available Features
Below is a list of available features with the Bespoke package.

The online corporate management tool
State of the art digital solution for company register management and company secretarial and corporate actions.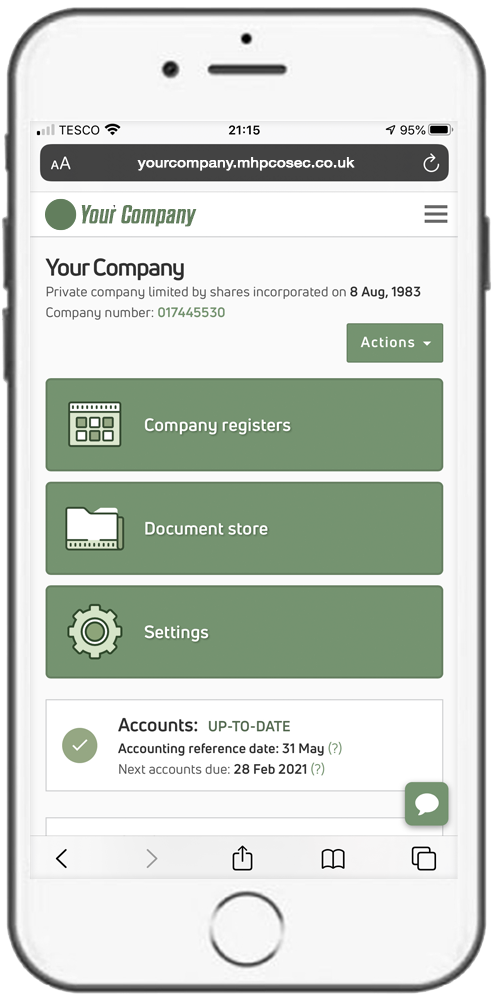 …and much more! Features below.
| | |
| --- | --- |
| | Online corporate management tool |
| | |
| | |
| Online company registers & core company information | |
| Change core company information (registered office, SAIL address, SIC codes, etc.) | |
| Change company officers & stakeholders (edit, add, remove) | |
| Manage core accounts information (accounts filing reminders, change accounting reference date & file dormant accounts) | |
| File confirmation statement | |
| Issue interim and final dividends | |
| Incorporate a new company (incorporation fees included) | |
| Online document storage for MHP CoSec generated documents | |
| Online document storage for your own files | |
| Share capital management (create new share classes, subdivide/consolidate shares, redesignate shares, cancel shares) | |
| Share transactions (issue and transfer shares) | |
| Run custom shareholder and director resolutions | |
| Run investor consent processes | |
| | |
| Adopt new articles of association | |
| | |
| Shareholder notifications | |
| | |
| | |