Our online corporate management tool
MHP CoSec provides a powerful online tool that allows you to manage your company registers with ease and perform company secretarial tasks online, saving you time and money. See below for a detailed breakdown of features.

Ultimate control
Complying with corporate governance, managing stakeholders, controlling share capital and shareholding is now straightforward and online. MHP CoSec makes it simple to perform traditionally complicated tasks that you may previously have outsourced.
Our online tool is the solution: a cloud-based system giving companies and advisors access to and control over corporate information. It simplifies the complex, demystifies the unknown, and makes it easy to own and control your company management, at any time from anywhere.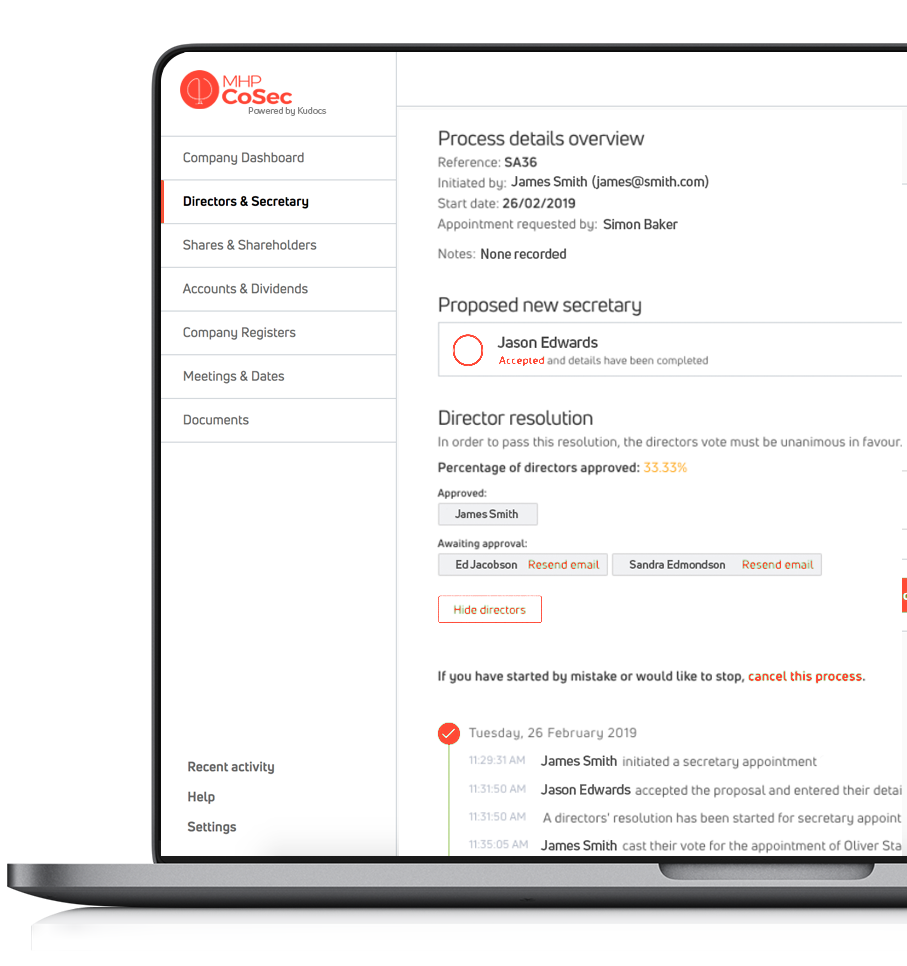 System capabilities
Depending upon the package you choose to best suit your needs, you will have access to some or all of the available actions within the MHP CoSec online corporate management tool.
There is a sophisticated company settings section that mirrors your articles of association to ensure you are performing the actions in the right way. Where required, the system automatically generates documents such as share certificates and dividend vouchers.
Where the system encounters restrictions of Companies House's digital capabilities it generates documents pre-filled ready to download, sign and send manually.
The system is built to provide convenience and confidence with your corporate governance management, while saving you significant time and money.
Shares & Shareholder actions
Accounts & Dividend actions
As well as this full range of services the system seamlessly updates and manages your company registers, ensuring they are always up to date and available for you to view or download anytime from any device.